Friendly, Front-End Developer, helping out where I can with UpFrontConf, McrFRED, FRED, MWUG, FEN, Tuts+, digiHike, Screencasts, 2048-STARWARS, Chrome Dev Theme, Treehouse, Web Dev Checklist, 365 Days of jQuery, Dev Food.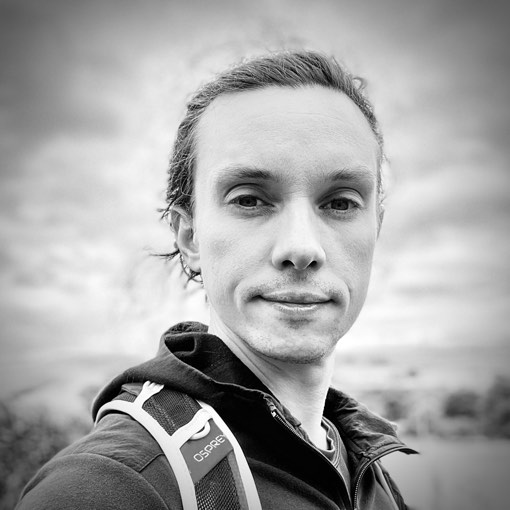 Why @s10wen ? It's like Si Owen, but with the I/O (input/output) replaced with 1/0 (as in binary). Geeky right? 🤣

— Simon Owen 🐝 (@s10wen) January 9, 2019
Born in Manchester 1983, my main role is to create fully functional, accessible websites.
I've worked with clients big and small, taught at university and had the pleasure of collaborating with some great people.
I built my first website with little coding knowledge and used various software rummaging around haphazardly trying to get elements to align and function correctly. I now find it great fun to look back on. Remnants of the website are still accessible via the 'Wayback Machine'. It even saved the stunning animated flame gif!

After launching that website many, many moons ago I was hooked. I loved the idea that anyone could create something online and it be instantly accessible to those all around the world.
Anyone who has lost track of time when using a computer knows the propensity to dream, the urge to make dreams come true and the tendency to miss lunch.

Tim Berners-Lee (Inventor of the World Wide Web)
Further information: Examples of work, client roster, online CV at LinkedIn, ramblings on Twitter, code at GitHub.
Clients
People who I've helped and worked with:
Recommendations
Simon is this incredibly rare combination of insightful and curious developer, broad and extensive knowledge of front‬-‪end development techniques, and a real motivation to me in his ability to inject energy into a community. Simon would be a huge asset to any team and I'm a bit jealous of the one lucky enough to scoop him up.‬

Paul Irish, Google Chrome Dev Team
Simon was exactly the kind of volunteer we hope for at our events; incredibly helpful, unfailingly reliable and unshakeably cheerful. His input into SmashingConf Oxford was fantastic from start to finish, especially in dealing with attendees on our busy registration desk. A very safe pair of hands; he knows he's welcome back anytime!

Catherine Clark, Smashing Events GmbH
As the Code editor for Tuts+, I was always searching for unique and timely topics to publish. Simon approached me with just such a topic which I commissioned and eventually published to a great reception from readers. The key thing is that he fleshed out a useful technique, using dotfiles for streamlining your developer setup; something that every developer wants and can benefit from. And along the editorial process, Simon was flexible and understanding taking in the feedback and ensuring that we were able to produce a top-notch feature article. He's an absolute pleasure to work with and I would not hesitate to collaborate with him in the future.

Rey Bango, Contributing Editor, Smashing Magazine
Simon is tenacious in his work ethic, never shying away from challenges and problems, he sticks to the task at hand until the job is done. He's an important asset to the team, willing to get his hands dirty with anything and constantly keen to pass on what he knows as well as eager to learn new things and hone his own skills. Any team would be lucky to have him.

Matt Hall, Front-End Tech Lead, The Hut Group
Si is one of those members of a team that are great to have. Keen and enthusiastic to learn, not afraid to ask questions and will work his arse off when the pressure is on.

Garry Finch, Design Team Leader, The Hut Group
Working with Simon is a breath of fresh air. He's motivated, professional and full of new ideas. In the 2 years I worked with Simon at JD Williams his proactive approach to sorting issues and getting work done to schedule certainly took a lot of stress out of project and campaign delivery.

Catriona Cronin, Online Marketing Executive, JD Williams
Browse by category: