Closing this year (before the Christmas Social) we have Dan Hett who will be delivering a rare, one-off 'unplugged' session.
TL;DR: This will be epic.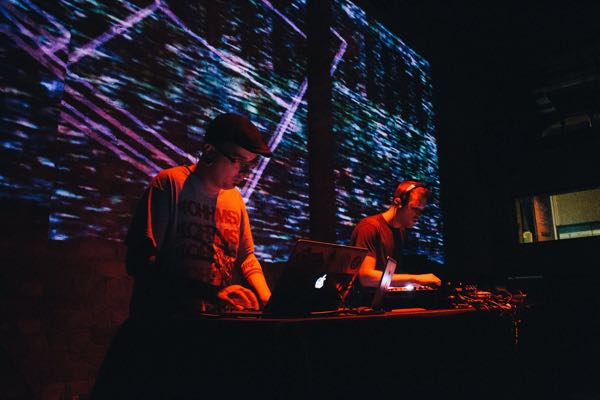 Dan Hett - @danhett
Dan Hett is a BAFTA-winning freelance creative technologist, digital artist, games designer and live visual performer from Manchester, UK. After spending the last few years building squishy digital content for millions of small humans with BBC Children's, and then a year on the bleeding edge with BBC Research & Development, Dan now operates as a multidisciplinary creative tech gun-for-hire across mobile, web, installation and beyond.
When he's not doing all that, Dan is a live performing visual artist, using homegrown software and tools to create improvised large-scale visuals for concerts, festivals and arts installations. Dan is a prominent member of the Algorave movement - an ongoing series of electronica events where all music and visuals are created entirely with live code and process, which is shared with the audience as part of the experience. Dan is also an accomplished live video artist and VJ, and has performed at scales ranging from countless sweaty basement chiptune shows right up to a headline slot at the legendary Superbyte Festival, and a recent Algorave session at Blue Dot Festival, in the shadow of the Lovell radio telescope.
Dan is a passionate advocate of open source software and shared process, and strives to expose not only the source that powers his work, but also the code, assets and chaos generated during the work itself. He is also a regular author and contributor to livecoding and computational creativity workshops, and is currently engaged in a series of successful Gamedev 101 and Creative Coding sessions, and has spoken on the subject (and made loud noises and abrasive bright colours) for the likes of Resonate, FITC, Reasons To Be Creative, Code Mesh, BLAB, and now McrFRED!
Unplugged!
Dan will be delivering a rare, one-off 'unplugged' session for McrFRED - no slides, no script, no hands on the wheel! Instead, Dan will be doing some improvised (and noisy) live demos of some of his performance work and tech, doing a deep dive on a few of the many weird experiments and oddities hiding on his hard drive, and waxing lyrical about creating things at high speed (and sometimes for millions of users, or in front of large dancing audiences…). Hold tight!
Previous Meetups
Find out more about Manchester FRED: https://s10wen.com/blog/categories/mcrfred/
Sponsors
Thanks to the sponsors:

If you're coming to this event, please thank the sponsors on Twitter, without them it wouldn't be possible.
Code of Conduct
Browse by category: