Manchester WordPress User Group August
In a not so boiling hot room in a not so sunny Manchester, this month Mike remembers his laptop.

WordPress 3.6
WordPress 3.6 came out about 2 weeks ago now.
With future releases, starting with 3.7 and 3.8, releases will be now worked on at the same time. Plugins will also be developed independent to the rest of the code. This way if something isn't quite right they'll be less chance of pushing back a release, be able to remove the plugin from core and then add it into the next release. Sounds good to me :relieved:
WordPress London
https://2013.london.wordcamp.org - With the conference taking place on November 23rd and the contributor day on the 24th.
Mike will be there speaking for this one, but unfortunately he's not able to make https://2013.europe.wordcamp.org but that's sure to be a great event as well and is held in the Netherlands.
More 3.6 News
Big update! Mike mentioned that normally it takes him about 3-4 hours to update his 130ish! sites, this time it took him 3 days. Although saying that he also said that there were little to no issues upgrading. He did mention that NextGenGallery may have some issues if you use that, but the developers are working on improving this.
3.6 comes with a new theme, semantic HTML, navigation menu ui improvements, improved revisions and post lock in to name a few.
By default this time there's no sidebar and the main widget area is held in the footer that looks like it's using https://masonry.desandro.com/ that helps with responsive design.
The customise screen, allows you to preview changes without effecting the live site. Then once happy, then you can publish them.
Apparently flat is the new black
Gradients and rounded corners have been cut back across the board.
With menus, there's now a concertina on the left, helping with sites that have lots of content. With Mike, being an experienced user, he'd rather have a button to populate a menu, but it looks like this is created by default. Understandable why they've done it that way though as I'm guessing it would help beginners see how the menu items work.
Revisions, previously was something you'd have to enable, but now if revisions are available, there will be an option available. Now it's easier to see with the side by side differences of each revision with a slider at the top allowing you to go through past revisions.
Add media, now allows you to add your own media with HTML5 videos and music. Then short code is generated when added, this will automatically be embedded to the post and be accessible to mobile and tablet.
If there's multiple users working on the site, it is now possible from the posts screen to see who is working on what post. If you then choose to edit that post whilst someone else is working on it you now have the option to 'Take over'. This is useful for example, if someone has forgot to logout whilst still working on a post that someone else needs to work on.
Auto saving is now possible automatically with local storage, meaning that if your Internet connection goes down, the post will still be saved on your machine. Awesome.
jQuery has been updated to 1.10.3, woo themes, had some issues with some code. As some code was looking for greater than 1.6, but the code saw 1.10 as being less that 1.6. In this case an alert popped up but you could simply ignore it.
Documentation
Documentation is improving at WordPress at:
https://make.wordpress.org/docs
Having issue tracking added, meaning that if you spot a mistake in the documentation you can flag it as an issue to be looked at and improved.
Other Bits
Mentioned: https://codex.wordpress.org/Function_Reference/has_shortcode
Also, some new Media, sort by author name, some new functions for wp_audio_shortcode https://codex.wordpress.org/Function_Reference/wp_audio_shortcode
Looking at potentially an October release for 3.7.
Ask The Audience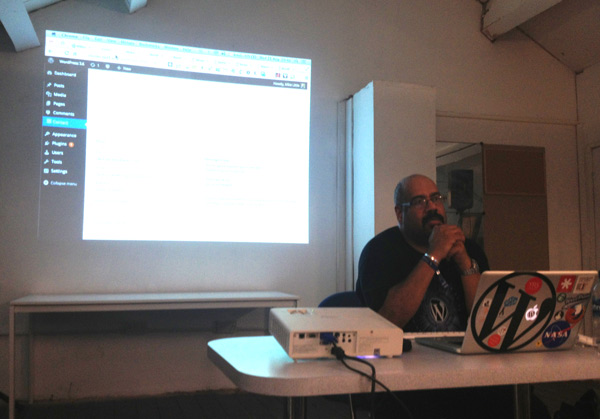 Mike asks people if they've run into issues and offers advice and help.
Contact Form 7
Contact form 7 issue, can't add a html link in, but it is possible to re-direct the user to another link if the form is submit.
Gravity Forms, awesome plugin, paid, but worth it if you think about how much time it will save.
Twitter Changing API
Display Tweets https://wordpress.org/plugins/display-tweets-php/ seems a good approach if you're having issues with Twitter with them having changed their API.
Browse by category: