Manchester WordPress User Group May
In a rather rainy Manchester…

General Session
WordPress News
Security update for WP Touch
https://wptavern.com/critical-security-update-for-wptouch-users-should-update-immediately
WordPress 4.0 now in beta
https://wordpress.org/news/2014/07/wordpress-4-0-beta-1/
New interface for media, more elements now viewable in the back-end preview window.
Events
WordCamp Bournemouth - https://2014.bournemouth.wordcamp.org/
Drupal + WordPress sprint - July 19th - TechHub Manchester
WordCamp Europe in Bulgaria - September 27th / 29th - https://2014.europe.wordcamp.org/
Rhys Wynne - https://www.rhyswynne.co.uk/wordcamp-europe-walking-tour/
PHPNW 2014 - https://conference.phpnw.org.uk/phpnw14/
Plugins
https://wordpress.org/plugins/stream/ - but be careful of update changes, as some features have been removed recently.
Pdfs / Slides / Book creation for the web that can be embedded in WordPress
Selling memberships with PayPal, easy way to do it through https://www.gravityforms.com/
Take a form and download it as a pdf:
https://gravityformspdfextended.com/
Vagrant - svn
develop locally in vagrant, vmware - virtualbox equivalent, virtualmin / webmin - set up custom controls to run custom scripts e.g. svn pull / grunt, for database changes - code up scripts to populate, use slugs - but yes, this will break if the slug changes.
https://wordpress.org/plugins/duplicator/
https://wordpress.org/plugins/backupwordpress/
Tim Nash 'WP-API' JSON rest api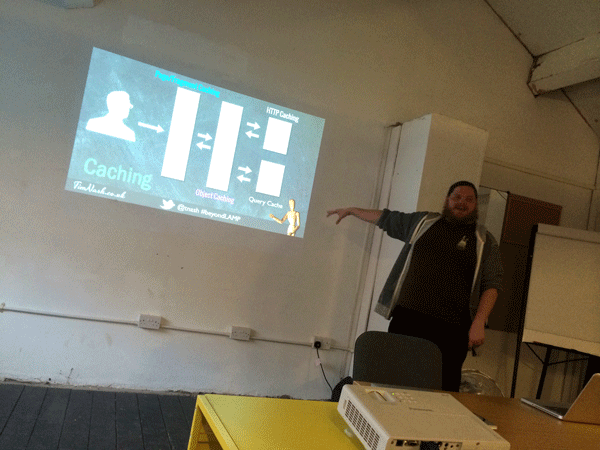 Jedi Tim using the force to show us the way of the wp-api
https://developer.wordpress.com/docs/api/
Slides should be available soon at: https://timnash.co.uk/
Browse by category: