Front-End Developer Workspace in net Magazine
Thanks to net Magazine for reaching out to me and asking about my workspace.
You can buy the full magazine in print or as a digital download at https://www.myfavouritemagazines.co.uk/design/net-magazine-back-issues/net-march-2018-issue-303/
Read on for the full article…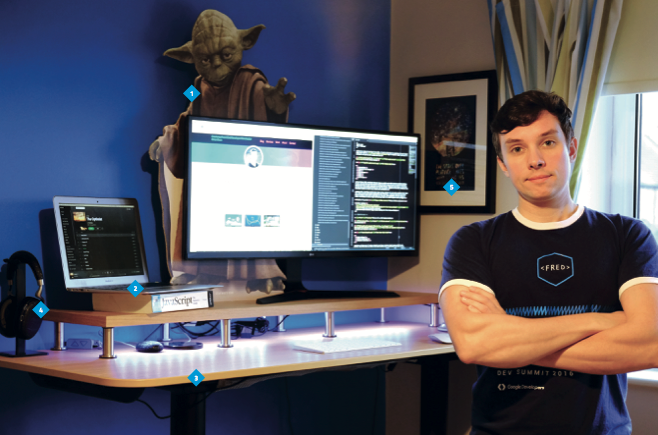 Many years ago my parents would bring me to Marple for a day out. I'd play on the space rocket climbing frame and we'd have nice walks along the canal. Marple is about twenty minutes from Manchester by train. Twenty minutes in the other direction and you're in Edale, one of my favourite walks in the UK.
I actually wrote a previous article mentioning digiHike, a hiking group for geeks I run. It's on my site if you want to check it out (https://s10wen.com/blog/2017/01/30/digihike/).
Fast forward thirty years and I'm now living in Marple. It has a quaint little cinema, plenty of places for food and drinks, a climbing center, kayaking, it's awesome! However please don't tell anyone else, we don't want it becoming too popular and overcrowded now do we? It's also nice that co-founder / organiser of UpFrontConf, Dan Donald, lives just around the corner.
At the start of the year I went freelance and day to day I'm working from my home studio. Those of you who already know me, know I'm a Star Wars fan. So who better to look for guidance from when working than [1] Master Yoda himself.
As well as Star Wars, I'm an Apple lover. My trusty [2] MacBook Air I bought in 2013 remains one of the best purchases I ever made.
When deciding on equipment for my studio, a stand up desk was a must have. I went for the [3] IKEA Bekant as you can adjust the height.
When I need to concentrate I go into what I call 'Deep concentration lock down mode' and mitigate any distractions. One way to help with this is by using my [4] Parrot Zik 3.0 noise canceling headphones. I recently had a very productive writing stint on a train riding to and from Manchester whilst wearing them.
On the wall [5] hangs a present from my fiancée. The artwork shows the star constellations at the time and location where I proposed, the lovely Plitvice Lakes in Croatia. If things get tough and busy with work, this will inspire me to go that extra mile.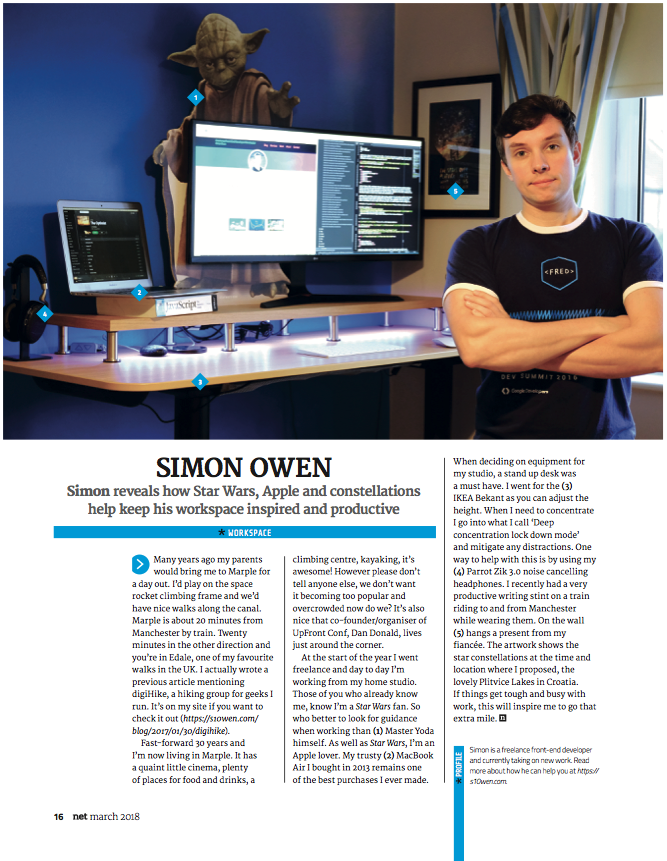 Thanks again net Magazine!
Browse by category: