McrFRED 77 Phillip Whittaker
For the next McrFRED, we will have Phillip Whittaker joining us talking about bodyless websites.
For this McrFRED, we'll be at WeWork on 'Wednesday 27th November, 2019'.
Please note this event is limited to 15 people.
Please arrive earlier rather than later, sometimes we do start a little later due to traffic, or other issues, but please assume that we'll start on time. There's normally some good conversation to by had as well.
This talk is due to start at 6:30pm and will last around 45 minutes, with times for questions and socialising afterwards.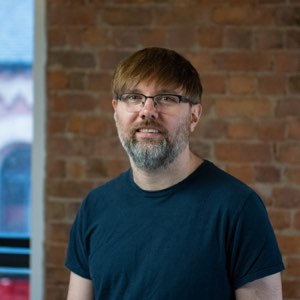 Phillip Whittaker
Phil is a full stack developer with over 20 years of experience in web development working both agency and client-side. For the last 5 years, Phil has owned a small agency called HiFi, this agency was set up to explore different ways of producing content-led CMS driven websites focussing on the quality of the HTML and CSS production.
Over the last year Phil has started to share our discoveries, talking at many meetups in the Leeds, Manchester, Liverpool area and recently talked at the UK Umbraco Festival in London.
Bodyless Websites
The exact opposite of headless, we'll show how driving website builds from the front-end makes sense when building content-led websites. By giving the front-end control to define what components (and dynamicity) is needed to create the site, we can free ourselves from the pain of integration and let these definitions automate the Umbraco build process entirely.
The process involves completely disconnecting the front-end from Umbraco into what we call the UI Definition and Delivery applications. Freeing up the front-end to concentrate on developing design systems that can be used to understand and record how different state and context affect the site design integrity.
Integration of front-end build by the Umbraco developer is simplified to (auto)mapping data between Models and Viewmodels and controlling what context components and pages are rendered in. All managed and controlled by a simple contract that exists per component between the two systems and creates parallel lines directly from the site to the content author.
Date of Event
Wednesday 27th November, 2019
Location of Event
Previous Meetups
Find out more about Manchester FRED: https://s10wen.com/blog/categories/mcrfred/
Code of Conduct
By attending this event, you agree to our Code of Conduct.
Sponsors
Thanks to the sponsors:

Browse by category: