Today was my first Manchester Game Jam!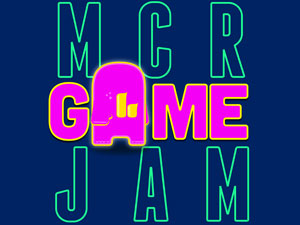 My friend recently got a Raspberry Pi and we're looking to get something up and running on it, I managed to get a Virtual Box running with Debian Linux LXDE and briefly put something together following a tutorial written in Python. Being a front end developer, Python isn't a language that I'm familiar with. With a tight deadline to create a game in just a few hours, at first I tried to write a game that would be text based, where the user could type out commands to interact with the game. I quickly found that this wasn't going to be easy extending on the tutorial I found without much knowledge of Python.
Therefore I opted to stay with my strengths and although extremely simple compared to the other people at the jam, ended up with something I was happy with. My main reason for attending was to see what everyone was up to in the Manchester gaming scene, before going I knew I'd be way out of my depth. So rather than user input by typing I created a game map of possible scenarios and different paths the user could choose between. The theme of the game jam was 'Traps', my idea was that you awoke trapped in a mysterious place and had to escape.
We started at about 10:00 and finished at 16:30, we had a nice projector setup and everyone was invited to show off what they'd accomplished. Some people worked alone, some in small teams.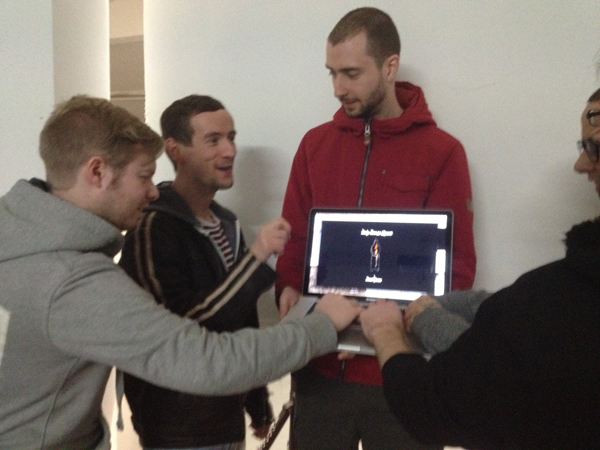 First up was an interesting game related to Trappist monks, it was a multiplayer game, that reminded me slightly of a really old game I wrote out from a magazine years and years ago called 'Gate' for the BBC. The game had a nice feature where if all players were near each other and simultaneously pressed a special key they chanted which I believe either killed or moved the enemy away allowing the monks to continue there quest to collect the beer packages dotted around the 2D maze like zone.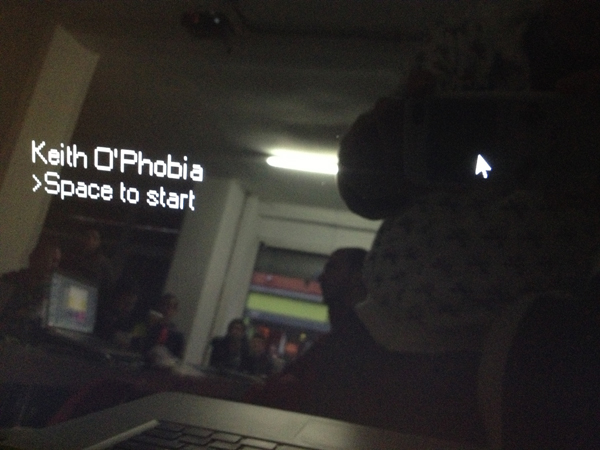 Keith O'Phobia was next up, sorry folks didn't manage to get a photo of it I was too busy demoing it! (maybe someone can send me one and I'll add it up). It was a platform game, with a character who could jump and avoid a menacing dog and move onto the next levels, the second level had a doctor throwing needles!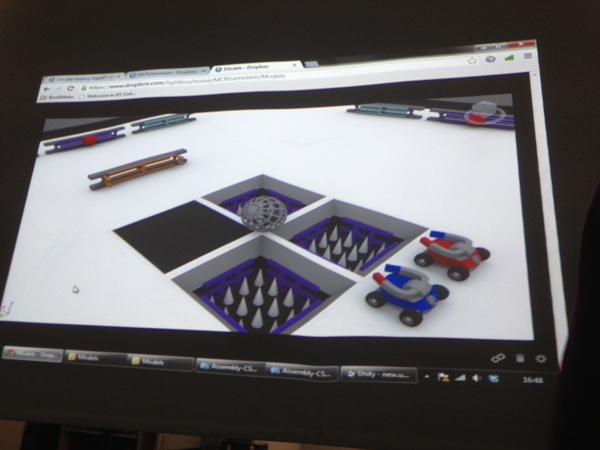 When I first came in, I was excited to see the progress of the next game shown. It was similar to Robot Wars, with traps to fall down and a ball with magnetised reactions. Unfortunately I think due to their software crashing the working prototype was lost, but here's a shot of how it could have looked.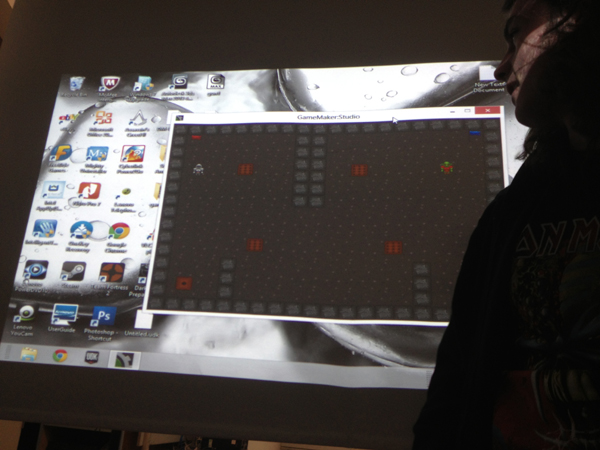 Next up was a capture the flag type game with traps dotted around the map, one character started on the left, one on the right and the aim was to capture your opponents flag and return it back to your own base being careful to avoid the traps dotted around the level.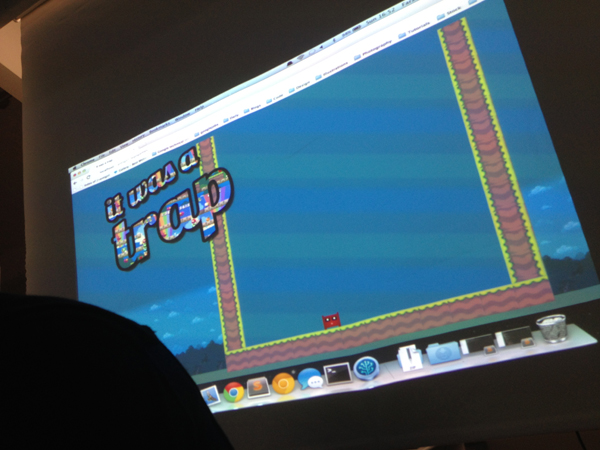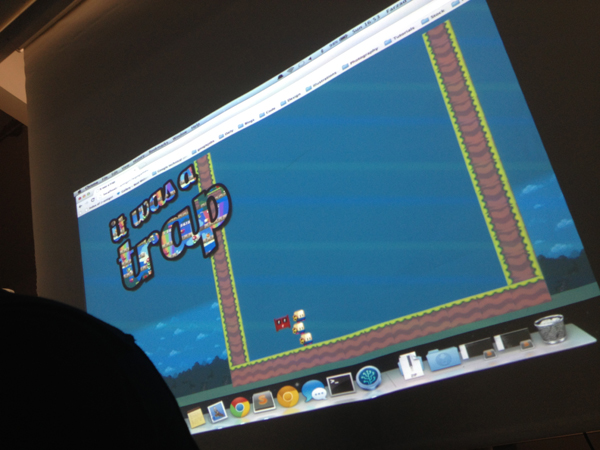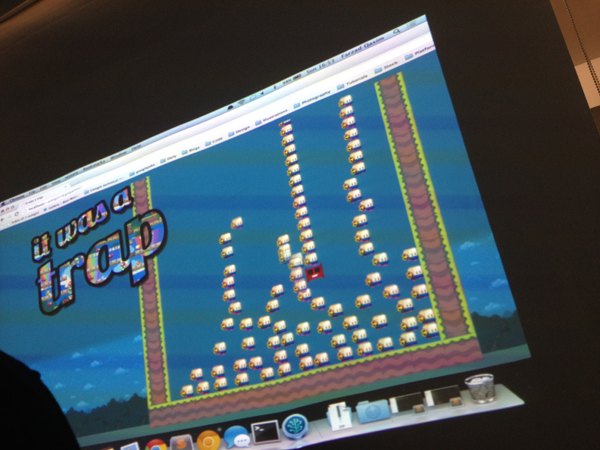 'It was a trap' was a favourite of mine, really nice physics and JavaScript based using https://impactjs.com/. The idea was that the character was trapped and could spawn helpers that he could then jump on to escape.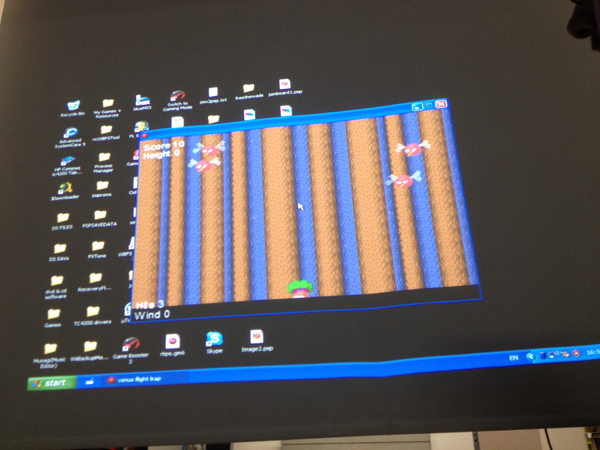 Then we had a flying game, where you could fly upwards avoiding the enemies, or if you were skilful enough, grab hold of them and for bonus points whilst grabbing an enemy, throw it and hit another enemy. As well as this there was added 'wind' that added to the game's difficulty and enemies with different patterns of movement as you got further towards the top making the game play increasingly difficult.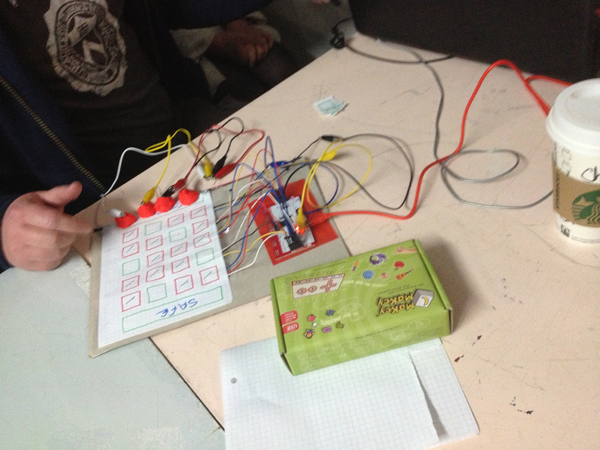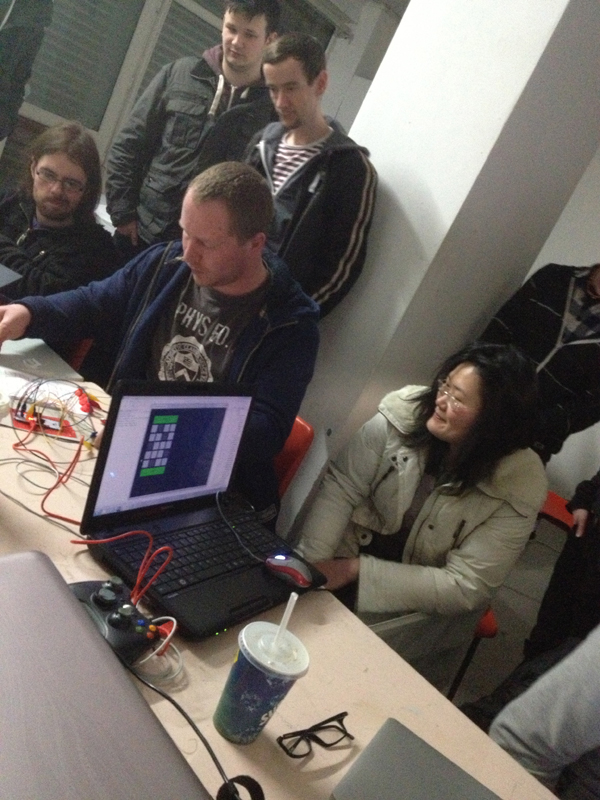 Next was half board game, half computer teamed game. A bit like battleships where you couldn't see what each other were doing. The idea was for one opponent to get all their pieces from one side to another using the Makey Makey and the other opponent to stop them in their tracks by placing down traps.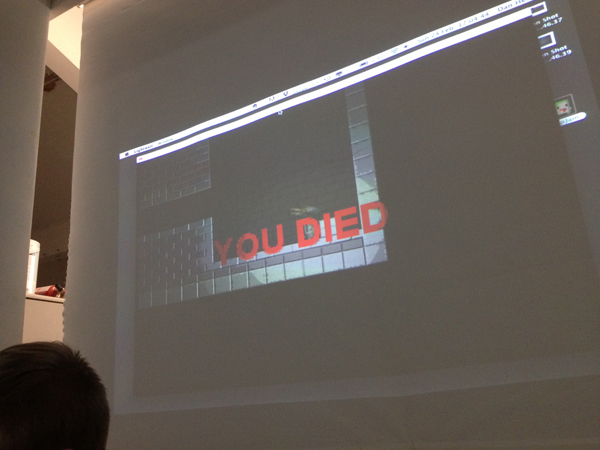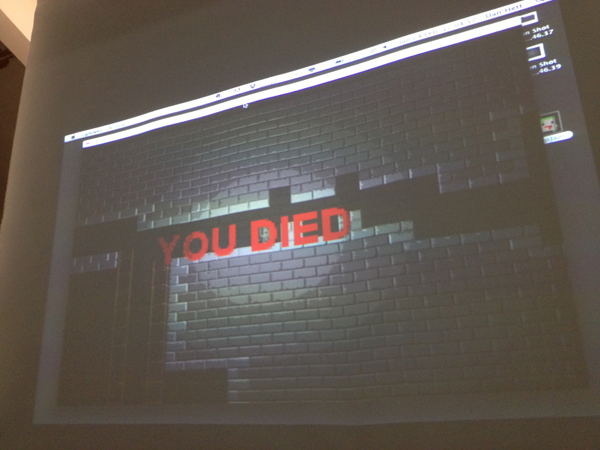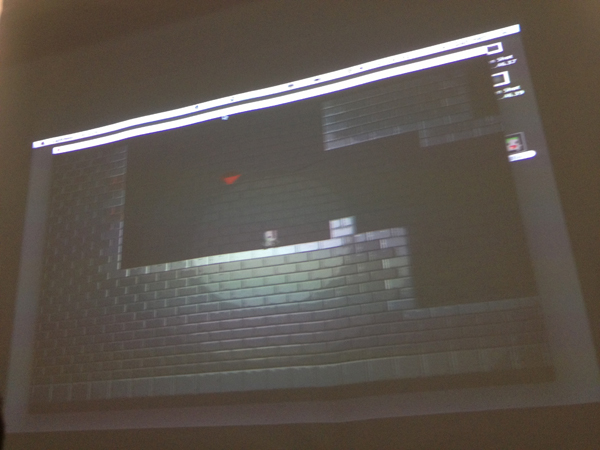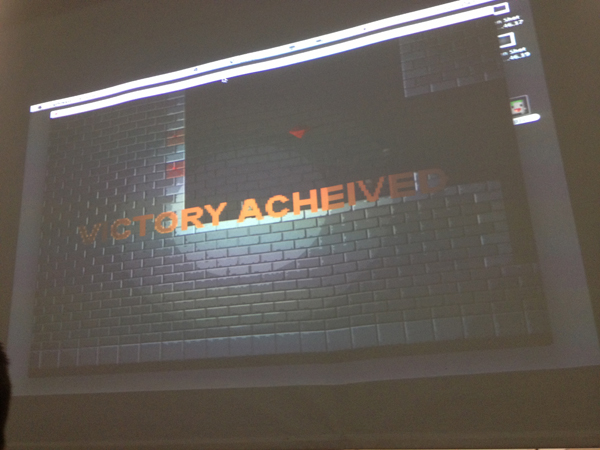 The next game looked great with the shading and light, another platformer, where the goal was to get to a diamond somewhere on the level. At first it looked extremely difficult, I'm not sure if the blocks that fell were randomly generated, but it seemed some of the levels were a lot more difficult than others. Certain blocks fell down when you stood underneath them and arrows fired at you across the screen making for a fast paced game and quite a few 'you died' screens, but in a good way!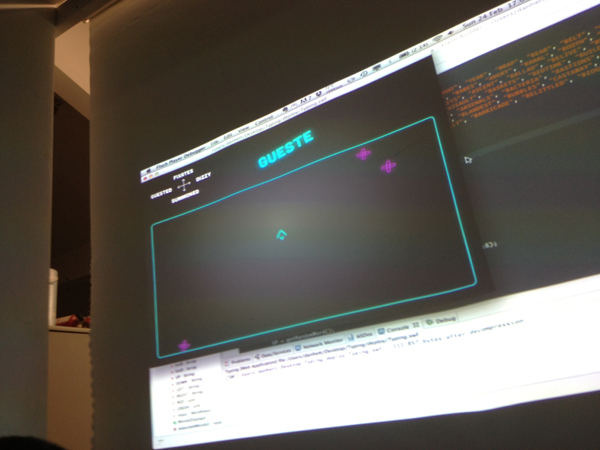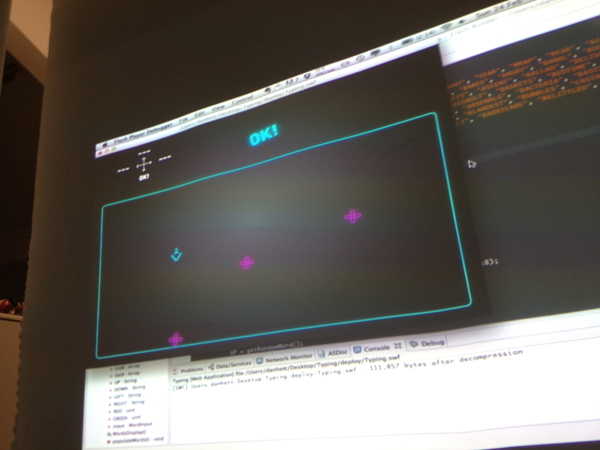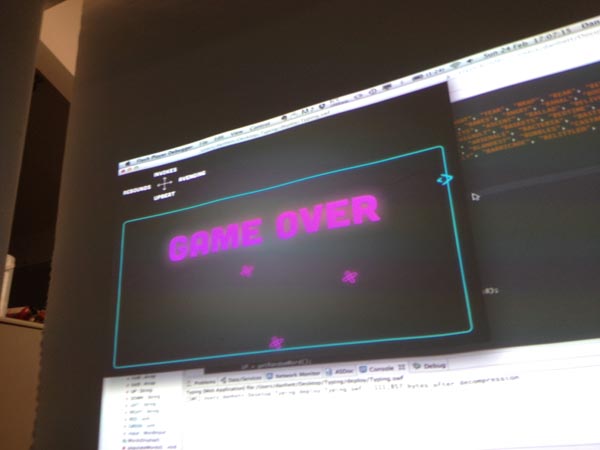 Dan who heads the Manchester Game Jam showed me a zombie based game that he'd taken inspiration from for his flash based game. The idea was that you were prompted with words that when typed out correctly would allow you to avoid the perimeters of the game and enemies that were floating around. Loved the 'neon-ness' of the graphics and the game worked seamlessly.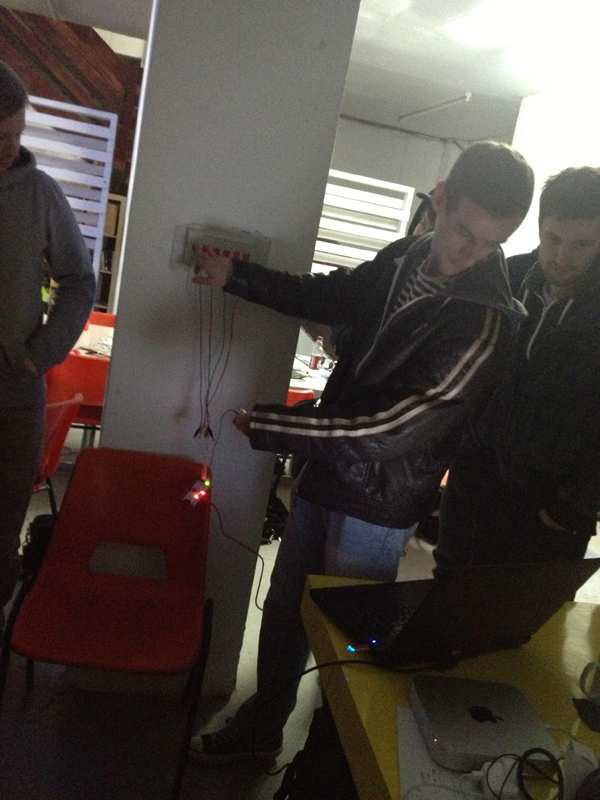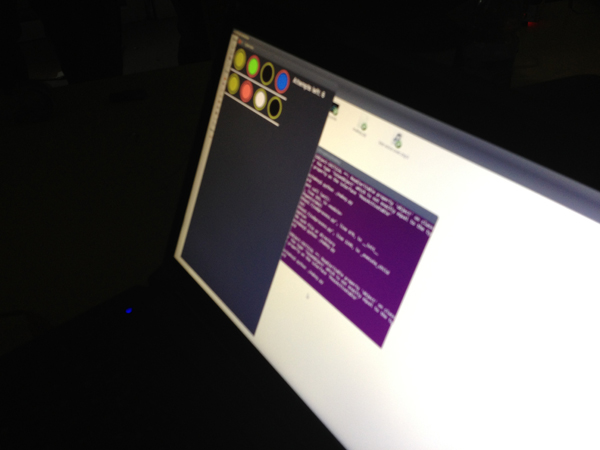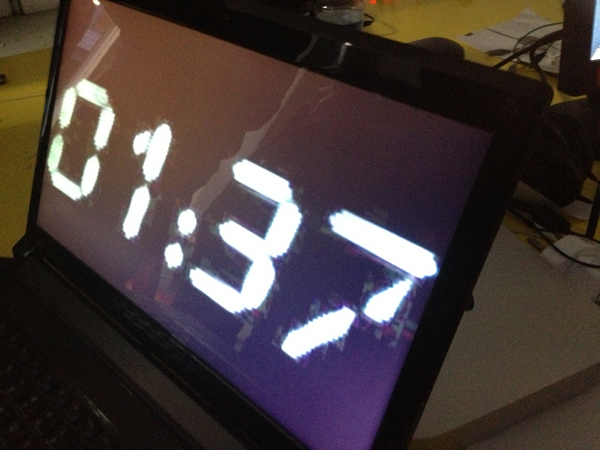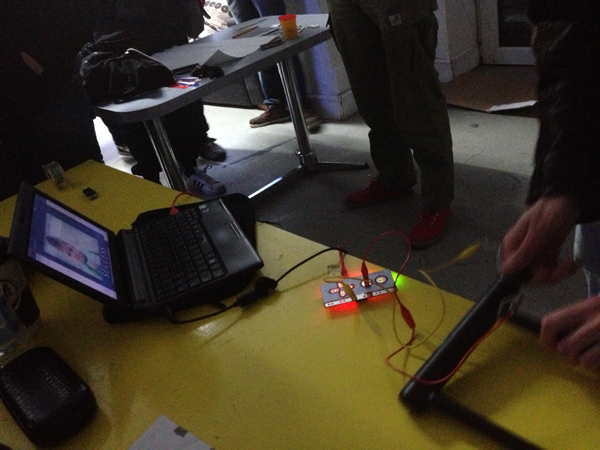 Last but no means least was my favourite game of the day. A combination between Crystal Maze and Mastermind. The game started off with an audio file detailing you of your first assignment. In front of the computer on the wall was a set of wires coming from the computer attached to buttons. Pressing each button generate Mastermind like hints to help you initiate the correct sequence. After this was accomplished a video was played detailing the next clue, then a counter started! Nice touch! The participant had to find the next clue and fast and not on screen but had to actually run up the madlab stairs! Luckily he did and found a key which when brought back down and opened the bicycle lock (mimicking a door lock) the final clue was given and you won.
Thanks again to all who game, had a great time!
Quick drink after in common bar, cheers!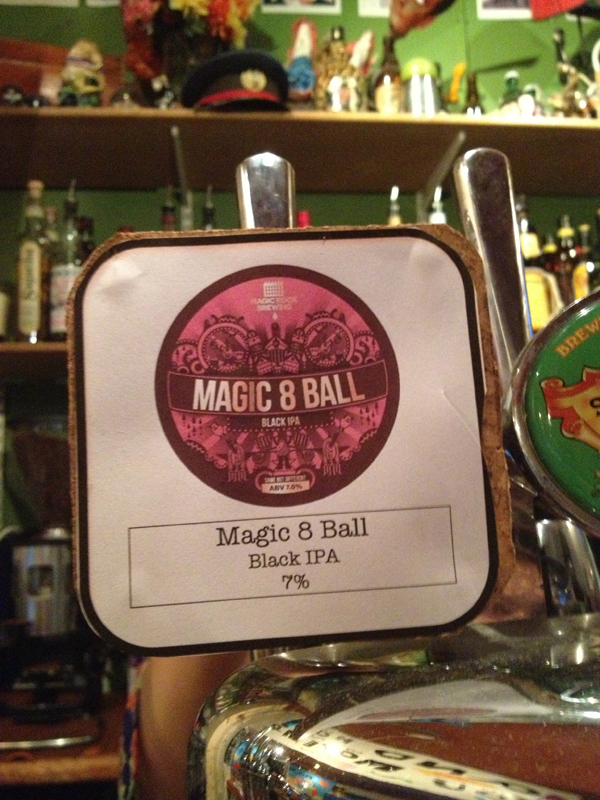 Browse by category: